Wireless stereo earphones making major noise in fast-growing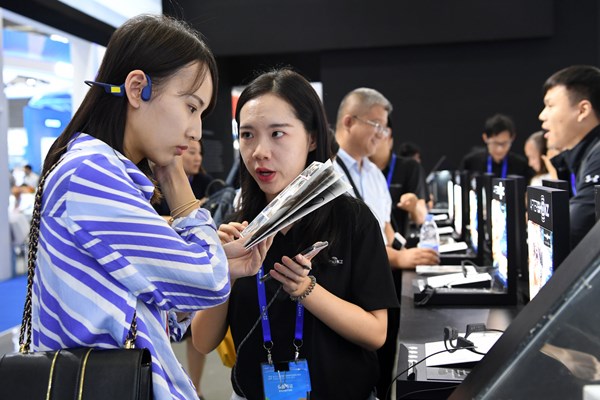 Competition in the wireless stereo earbud sector is set to intensify as a batch of technology companies are beefing up efforts to launch more feature-packed models, covering functions like noise cancellation, bio-sensing, waterproofing and integrated artificial intelligence voice assistant services.
According to a report by market consultancy IDC, 42.56 million units of wireless earphones were shipped in the Chinese market in the first half, an increase of 24 percent on a yearly basis. Of this number, true wireless stereo earphones accounted for 64 percent, up 49 percentage points year-on-year.
TWS earphones, which contain two separate sets and a charging box, are an important driving force for the rapid growth of the Bluetooth headset market, and have become external devices that smartphone companies are vying to develop this year.
The report said with the rapid advancement in audio technology among smartphone companies, TWS products are quickly taking over the market by virtue of brand influence, channel operation capabilities and product compatibility.
Apple shipped the most wireless earphones in China, occupying an 18.1 percent market share, followed by Huawei (10.1 percent) and Xiaomi (8.3 percent). The automatic pop-up, smart wear detection functions and the deep adaptation of TWS with mobile phone systems have also strengthened the brand stickiness of original handset users.
The report added that TWS earphones are expanding bio-sensing functions, thereby realizing diversified interaction methods including touch, voice, body bio-sensing and light sensing.
In addition, bio-sensing technology is also more often used in sports and health scenarios to create multiple physical sign data monitoring functions, such as heart rate and body temperature, for TWS headphones.
"The wireless earphone market, especially TWS earbuds, will become an important part of the future built-up ecosystem of mobility scenarios, which will create diversified-use cases with handsets and smartwatches in the fields of intelligent sensing, voice interaction, fitness and health," said Sophie Pan, research manager at IDC China.
Pan said the combination of multiple applications in various scenarios will greatly enrich users' mobile interactive experience.
Apple rolled out its wireless headphone AirPods in 2016. Domestic smartphone brands, such as Oppo, Vivo, Xiaomi and OnePlus, are entering the fast-growing TWS segment. The rapid growth of the Chinese market is prominent, and Chinese players are making further advances this year, experts said.
The size of the global market for true wireless hearables is expected to grow from 120 million units last year to 230 million units in 2020, an increase of 90 percent on a yearly basis, said Counterpoint Research.
The launch of Apple's new Air-Pods Pro model in October 2019 helped the company record a steady 44 percent growth in the fourth quarter of last year despite supply shortages. Its market share fell slightly but still had more than 40 percent share worldwide.
Counterpoint Research also said new TWS models are released without pause with various features and functions, including noise cancellation, bio-sensing, waterproofing and integrated AI voice assistants in broader price ranges from low-cost entry level to high-end premium options.
In addition, demand for replacements from consumers who purchased first generation products two or three years ago will likely soar, as well as first time purchasers who are now entering the market in large numbers, the consultancy said.
Liz Lee, senior analyst at Counterpoint, said the TWS hearables market will have a similar growth momentum as did the early smartphone market a decade ago.
Lee added that based on future product strategies focusing on voice communications from global tech companies and their efforts to create high added-value, TWS hearables are just now becoming daily necessities for consumers.
"In particular, tech giants such as Amazon, Microsoft and Google have joined hands to spread the reach of AI voice assistants through mobile devices, and accordingly true wireless hearables will evolve into smarter devices by replacing and enhancing some functions of the current smartphone," she said.